Dance Floor & DJ – The Benefits of Hiring
There are so many benefits to hiring a dance floor and DJ as opposed to you purchasing one or doing your own mussic. It may be that you own a business which provides a dance floor for customers, or you want a dance floor for your school event or musical productions. It could even be that you just want a dance floor for a special occasion such as a Birthday Party or Wedding Reception Party.
Carry on reading our blog to find out all of the benefits of hiring a dance floor from Flash Dance Floors:
Why should I hire a dance floor?
Perhaps the obvious benefit is that it can work out much cheaper to hire than to actually buy a dance floor. If the dance floor is for an occasional or even one-time event such as a party, then dance floor hire is the best cosst effective and only suitable choice. Hiring a dance floor for a celebrational event can be an excellent way of getting lots of people up, enjoying themselves and helping the event go off with a bang!
Hiring a Dance Floor
If you have chosen the option of hiring, you are still able to have all of the great features of a great dance floor. Portable dance floors can also be a great choice to take from location to location. Whatever features you would like you can still obtain them from dance floor hire. Once you have your dance floor chosen, you will be able to customise it exactly as you want. You may already have plenty of ideas. If not look online, there are some great examples of what people have created with their dance floor space.
Imagine how hiring a dance floor could benefit an event such as a special birthday party, a wedding or works leaving party. A lot of events suit having a dance floor as so many people like to dance! Having a dance floor with flashing lights or a Gloss White dance floor with starlit special effects makes that first Wedding Dance extra special and so memorable.
There are other reasons people may hire a dance floor too. When it comes to business some entrepreneurs hire a dance floor to showcase their products. Dance Floor Walkways that highlight the catwalk area. As it is a great stage for what they are offering. Likewise, organisations and individuals also use a dance floor for presentational purposes and even to hold conferences. The uses of a dance floor are substantial.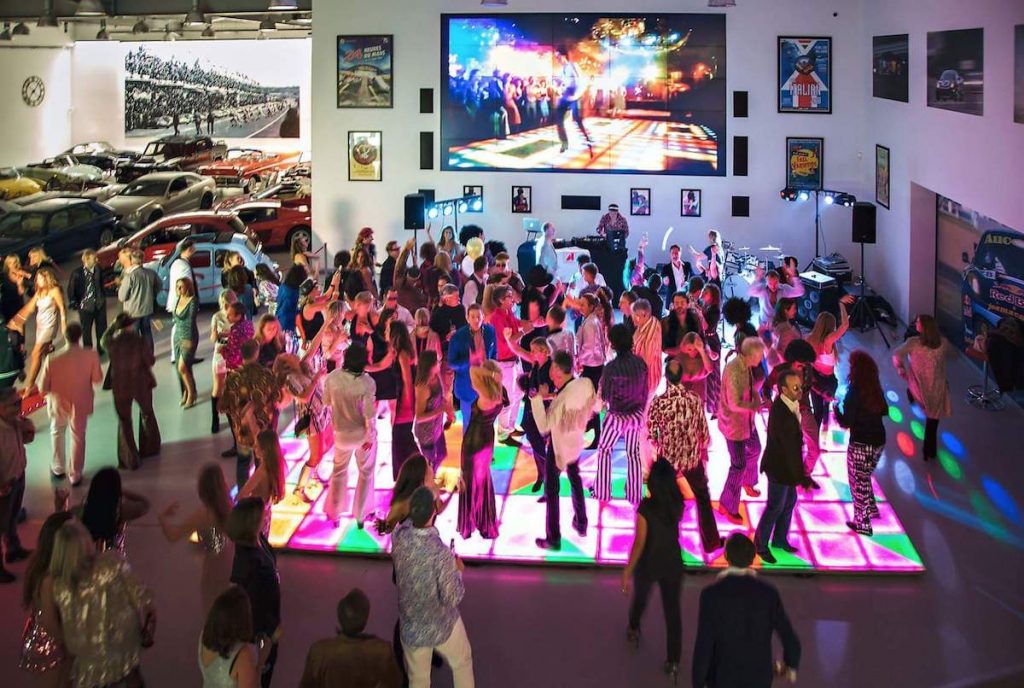 Showroom or Product Launch Party
When thinking about dance floors you may typically picture them in an inside venue. But they can also be a real showstopper outdoors too. (As long as the weather is good!) Summer marquees with oak parquet dance flooring makes any Summer Festival a disco heaven. Consider a disco dance floor on a warm summer's evening. The sort of setting that makes for very memorable moments.
So, there we have it, a few good reasons for hiring a dance floor. Not only can you save money, but you can also put yourself in a much more flexible position to create a dance floor set up that works towards your needs and budget.
We hope that our blog has been helpful and will assist you to organise your event. If you have any questions please don't hesitate to get in touch on 0843 886 9672 or alternatively head over to our contact page to send your dance floor enquiry, we will respond as soon as convenient. Or you can use our Live Chat option for instant questions and answers.