Are you looking to impress your guests on your wedding day? An LED dance floor is the perfect accompaniment to your wedding entertainment, bringing a touch of elegance to your big day. Flash Dance Floors work closely with all potential customers to supply you with the most stunning LED dance floor for your evening reception.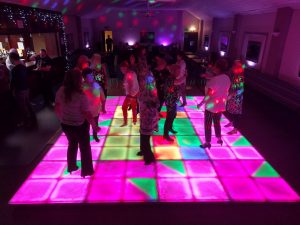 The white light up LED starlit dance floor is made from white gloss interlocking panels, which have been scattered with hundreds of tiny twinkling LED lights creating a truly magical dance floor. We also have the option of a black gloss interlocking panels with starlit sparkling LED lights. Whilst they may seem like a small item, these LED panels pack a serious visual, creating a memorable centerpiece for any venue.
Both options are very sleek and extremely stylish, our starlit black and white LED dance floors can turn your wedding venue into a beautiful picture perfect party wonderland, impressing your family and friends. These dance floors are available in a wide range of sizes, meaning that no matter your choice of venue, there will be a dance floor for you. We even set your evening reception dance floor and test and you can watch your venue transform before your eyes.


Not only do they look fantastic in person, but these luxury light up dance floors make your wedding video and photos absolutely timeless. As well as offer something your guests will want to share on their social media profiles, we also have flashing dance floors like the original 1970's and 80's floors from the night club days. You'll find your guests will struggle to leave the dance floor, preferring to party the night away!
Imagine your first dance taking place on a sea of stars, as your guests look on in awe. Choose one of these illuminated dance floors and create a romantic atmosphere for your first dance as a newly married couple.
Whilst our LED dance floors look highly polished, they are perfectly safe to dance on without fear of slipping. Unless you are hoping to nail the moonwalk in your socks or do some street dancing to impress the grandparents! An LED dance floor is truly the sparkling centerpiece to your evening reception, allowing you and your partner to feel like royalty. The dance floor panels sit low enough that there will be no worry for older or less abled guests to get on up and enjoy themselves, with each panel locking securely into place. We deliver, install and test all floors.
These dance floors are the most requested item flash dance floors, and it's easy to see why. Delegate some of the setup stress from your wedding day and let us, the professionals set the dance floor up whilst you are taking photos, or chatting with your family and guests. This will allow you to enjoy the beauty once your evening reception starts. Your wedding guests and family will be wowed as they arrive. By booking through Flash Dance Floors you know you are getting a fantastic product that will not let you down. Call uss today about what other options we have that can compliment the LED dance floor and discover how you can tailor your wedding day today! 
We have many wedding reception ideas and party props including, Wedding LED Love Letters, Light-Up LED Tables and Party Furniture, Mirrorballs, DJ Hire, Party Backdrops and so much more.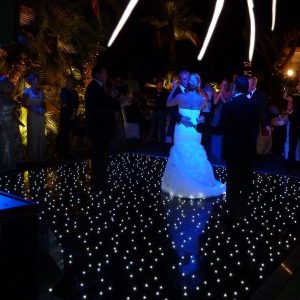 #weddingdj #somersetdj #dj #wedding #djlife #party #music #bride #weddings #eventdj #mobiledj #partydj #djs #groom #weddingday #clubdj #love #uplighting #corporatedj #weddingreception #weddingplanner #bridetobe #weddingplanning #engaged #dance #weddingmusic #weddingparty #partyhire #lightupdancefloors #leddancefloors #dancefloorhire